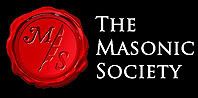 I haven't been getting around to doing a lot of posting lately but I have really wanted to plug
The Masonic Society
, a new Masonic research organization that unveiled itself back in May. Its Founding Fellows include many of today's best known Masonic authors, bloggers and web-masters such as
Chris Hodapp
,
Paul Bessel
,
Stephen DaFoe
,
S. Brent Morris
and Mark Tabbert, just to name a few.
From their
site
:
Our name,
The Masonic Society
, intentionally alludes to the Royal Society, the innovative organization of visionary men who were at the forefront of the Age of Enlightenment, many of whom were present at the formation of what became modern Freemasonry. Likewise, our new Society will be at the forefront of a new age of Freemasonry, and we intend to be a vibrant, active community within the fraternity.
The goal of
The Masonic Society
is not just to look backward at the history of Freemasonry, but to foster the intellectual, spiritual and social growth of the modern Masonic fraternity.
To that end,
The Masonic Society
extends the hand of assistance and cooperation to individual Masonic research lodges in North America. It is the desire of
The Masonic Society
to be a partner with these lodges, to give their members the regular opportunity to publish their papers for an international audience, and to publicize their activities.
Membership in the Society is open to regular Master Masons in good standing of regular, recognized grand lodges in good standing with the Conference of Grand Masters of Masons in North America (CGMMNA), or a grand lodge in amity with a member grand lodge of CGMMNA. Non-Masons, libraries, lodges, and members of other obediences may also subscribe to the Journal at the $39 annual rate.
I have plunked down my $39 and have been finding it to be a worthwhile investment - check it out!