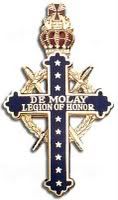 Well, we are just a couple of days away from the release of Dan Brown's "The Lost Symbol"...
What have I been up to since my last post? Not worrying about his book - looking forward to it but not worrying about. After all, most of us expected this book about 3-4 years ago and were preparing for it then. Let's read it before we panic.
What I have been up to this summer is keeping busy despite the crappy weather we experienced. I attended the New York Council of Deliberation, the New York DeMolay State Convention, worked at a Safety ID session with Trinity DeMolay Chapter and drove my son to soccer tryouts (he made the Varsity team as a Freshman).
At the DeMolay State Convention, I learned that I was to receive their Honorary Legion of Honor - a very big surprise so I am very excited & honored by this. It will be conferred upon me on Sunday September 27th - the same that I hope to also see my son installed as Master Councilor of
Trinity Chapter
.
A busy summer, yes, but not spent worrying about "The Lost Symbol" - there will plenty of time for that on Tuesday...