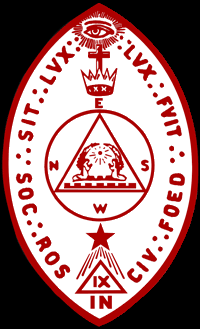 Last weekend, the New York College of the
Masonic Societas Rosicruciana in Civitabus Foederatus
(MSRICF) met in Liverpool, NY to begin the process of rebuilding the organization. The MSRICF is really the only organization that I belong to that doesn't ignore the Esoteric side of the Craft.
I expressed my disappointment in the lack of symbolic education within the symbolic lodges of modern Freemasonry. Grand Lodges seem to have adopted the attitude of "if we ignore the esoteric symbolism and promote business management education, then the public will stop asking about it and we won't look silly trying to explain it."
This group really gets me going. When someone mentioned the "raising of energy" during the opening of Lodge, I really got psyched! Yes, there are others that want to experience the same as me. This very same person suggested that perhaps it was time for Freemasonry to have an Inner and an Outer Order. The Outer would deal with the Public, raise money for charities and keep the Lodges organized properly. The Inner Order would attend to the Esoteric/Spiritual Heart of Freemasonry. I think he may be onto something.
All this talk can't last though. I am preparing to head to New York this weekend for the Annual Communication of the
Grand Lodge of New York
. It's time to get back to business.