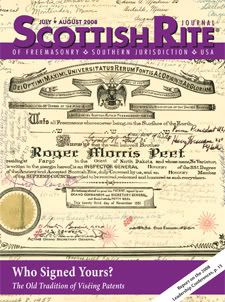 I was quite surprised and very pleased when I received a call from my Scottish Rite Valley's Secretary to tell that I was mentioned in the July-August 2008
Scottish Rite Journal
.
Ars Masonica, along with several other Masonic Blogs were discussed in the Brother James T. Tresner II article
"Book Review: The Wind Between The Atoms

."
The Scottish Rite Journal is the
Southern Jurisdiction
's official magazine and is always packed with great articles. I may get a lot of flak for this (I am a member in the Northern Jurisdiction) but I believe it to be the best Scottish Rite and quite possibly, the best Masonic publication in the United States. The entire content of the current issue as well as past issues can be found at the link above.
I am honored by the mention in it as well as being associated with the other Brothers and their work in the review. Thank You!!!